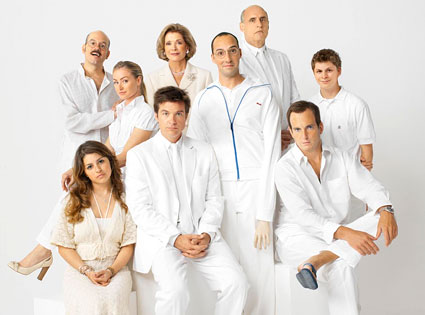 At the
"Extract"
panel for the
Comic-Con
in San Diego someone asked Jason Bateman about the Arrested Development movie and he confirms that the movie isn't dead and the process will take between 6 to 18 months to see the movie came up in theaters.
Jason Bateman declaration at the Comic-Con :
"It's not dead, there's no reason to think that it's dead; Mitch Hurwitz had a very busy TV pilot season, so now that part of the year is over, it may start moving. Or it may not. I spoke to Ron Howard and Brian Grazer a week ago and they're still very behind it, and they're still pushing the idea on their bosses, who apparently rule the WORLD. It could be as soon as the next six months, or as late as the next 18."
You can read here one of the article we can find on internet who talks about it :
Recently, despite constant promises from the cast, things haven't looked good for the long lusted after Arrested Development movie. Though they finally got Michael Cera on board earlier this year, nothing really ever seemed to come of it. But today while sitting in on the

Comic

Con

panel for Mike Judge's new

movie

Extract, Arrested star

Jason

Bateman

assured fans that it's not time to give up yet.

Bateman says,

"No breaking news, but its not dead. Mitch H. had a very active TV season. Things are clearing up for him so he can write the script."

And of course should he ever write the script, he insists they're all still interested.

"The will is there from all of us. Grazer and Howard are behind it."



So come one, we've been hearing about this movie forever now and nothing has come of it. Give us a timeline man! He does.

"Hopefully as early as the next 6 months as late as 18."

Is that 6 months till someone actually starts writing the script or until they actually start shooting the thing? And once they do start making it, what's it going to be about? Turning a weekly

television

series

into a 90-minute movie is no small feat.

Bateman says they have ideas about where the movie can go. He reveals,

"If you look at the last scene of the last episode, with Funke pitching the idea of a show about what happened and Howard says no, maybe a movie, that kind of dovetails what may happen with a movie."